Four ways AI is revolutionizing customer support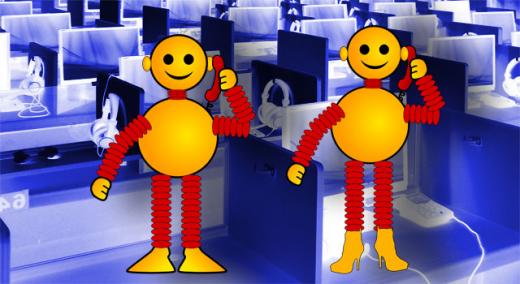 Customer service
Four ways AI is revolutionizing customer support
Call centers can use AI in a truly collaborative way
Posted: Tuesday, April 26, 2022 – 12:03 PM
BBy 2035, artificial intelligence (AI) is expected to increase business productivity by up to 40%. It is already part of people's daily lives and its use is only expected to increase to address more critical issues besetting our world.
Companies are turning to AI to achieve profitable customer success. Integrating AI into customer service is revolutionizing the way customer issues are resolved. From managing endless support tickets to responding at the right time, AI helps customer support reps by giving them timely information at their fingertips. It helps business leaders personalize experiences for users and create tactile experiences for customers at every touchpoint.
Here are four ways AI benefits customer support.
1. Simplified search
Although there are many aspects to customer success, time is the most crucial. Managing multiple clients simultaneously and delivering the right effective solution at the right time is tedious work. Call center agents juggle multiple platforms to retrieve information needed to resolve customer issues. Therefore, research should be streamlined and transparent so that agents can easily navigate the troubleshooting process.
AI uses Natural Language Processing (NLP) to provide agents with a seamless search experience. There are endless communication challenges involved when machines and humans communicate. NLP gives a human touch to user experiences by translating between different languages ​​and understanding the natural language in which they speak. It understands the context and intent of a user's search, completes their phrases, and extracts relevant information from the knowledge base.
Customer service representatives can easily search by title or keywords to retrieve needed information from long text documents. This increases agent efficiency in resolving more support tickets without compromising the quality of customer support.
AI also facilitates automatic tagging and classification of content, which improves findability and helps representatives and customers quickly and efficiently access relevant information. With simplified and transparent information retrieval, customer support teams can rely on a unified knowledge base to serve customers with confidence; this results in increased customer satisfaction.
2. Real-time decision making
Customer support is a fast paced department and needs strong decision makers to meet growing customer expectations. Support agents need to make informed decisions in real time to help customers. However, given the huge amounts of data, it is nearly impossible for agents to process all the information and retrieve it when needed. Several steps must be performed in the correct order to resolve customer issues. To this end, AI automates cognitive tasks, allowing agents to perform their jobs faster and more efficiently.
Integrating AI into guided workflows improves the ability of support reps to take the next best action to help customers resolve complex issues. Instead of confusing customers with complex interactive voice response systems, AI-enabled cognitive decision tree software helps representatives with step-by-step instructions to make the troubleshooting process easier for customers. With standardized guided workflows, agents feel more confident in supporting customers, which translates to increased customer confidence.
AI empowers business leaders to make better decisions by providing valuable insights into user engagement. It automates the recording of most searched queries, unmatched phrases, and total resolution time, which helps knowledge managers optimize knowledge base content. They can increase the visibility of top-performing content, add new knowledge, and remove unnecessary information.
AI-enabled data analytics allows users to actively participate in the decision-making process by providing a safe space for agents to share feedback on content ingenuity. By tracking user engagement, AI brings together different stakeholders and gives them actionable insights to make real-time decisions to help customers.
3. Personalized experience
Customers today have many options to choose from, making it crucial for business leaders to invest in delivering personalized customer experiences. Each client is unique and has their own expectations. Over 75% of consumers think brands should implement better strategies to encourage loyalty, so the brand understands them and what they want to achieve. Clearly, personalization is the most effective way for businesses to retain customers and gain competitive advantage. However, it is difficult to provide personalized customer support on a large scale.
In addition to automating manual tasks, AI helps companies boost the efficiency of their human workforce by providing personalized assistance. AI can process large amounts of data in real time and share relevant suggestions and notifications with users. Machine learning follows user journeys, continuously learns their behaviors and activities, and improves experiences through its collective memory.
In customer support, AI integrates with multiple backends to enable seamless traversal of customer information in guided workflows. Agents don't need to visit multiple platforms to collect customer information or ask customers to repeat their information. AI ensures that the information in a company's customer relationship management (CRM) database is used effectively to create quality customer experiences.
With the right data in place, customer support reps can deliver meaningful, personalized experiences with customers at scale. Data offers huge opportunities for growth, and AI can help organizations monetize their data and use it to its full potential.
4. 24 hour customer support
One of the most crucial ways for AI to revolutionize customer support is through the use of intelligent virtual assistants or chatbots. As customers increasingly turn to online support, chatbots are responding to customer needs by providing instant answers to their issues.
Over 60% of users think 24/7 support is the best feature of chatbots. The bots do not get tired or sick and can work continuously. Also, it is easier to train bots than human agents. Bots can perform critical cognitive tasks and bring a human touch to conversations with customers.
By setting up chatbots on popular customer service channels, business owners can provide round-the-clock customer support that is pragmatically impossible with customer support teams alone.
While AI chatbots can respond to standard customer queries, they also allow for easy and seamless handoffs to live agents in the event of complex issues. Chatbots transfer all customer data to live agents for efficient and fast resolutions. Unsuccessful searches or unmatched phrases can be valuable information for knowledge managers to update information in bots to meet the needs of future users.
Conclusion
AI is improving people's experience in all walks of life, leading to increased expectations for more on-demand, personalized, and instantaneous services. In customer support, AI is revolutionizing the way support teams interact with customers and deliver solutions. AI is changing the dynamics of call centers by helping agents focus more on skill-based work and providing them with the correct information at the right time to deliver meaningful and sustainable customer support.
Although AI eliminates work redundancy by automating customer services, it should not be used to replace support teams. It cannot replace humans, but it can increase their ability to accomplish more in a given time. This will allow businesses to grow in an ever-changing digital landscape.