How customer support increases customer loyalty in times of crisis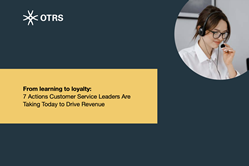 "The OTRS Spotlight on Customer Service shows the centrality of customer service to customer satisfaction and to cross-selling and up-selling opportunities. It also shows how good collaboration with other departments strengthens customer service teams. – Andreas Bender, VP Consulting at OTRS Group

RALEIGH, NC (PRWEB)
August 31, 2022
Rising inflation is leading to greater frugality in many parts of the world – this can be seen in both consumer markets and business-to-business (B2B) commerce: the current crises are causing many companies to consider planned investments with more caution and to delay them. When new business becomes difficult in these times, good customer service can not only ensure stable and quality customer relationships, but also provide additional cross-selling and up-selling activities.
In the current OTRS Spotlight (OTRS Group, 2022), OTRS Group surveyed 500 international customer service leaders in Germany, the United States, Brazil, Mexico and Singapore on various aspects of customer service and presents the results in a series in 3 parts. The first part shows how important customer service is to customer loyalty and satisfaction, and how important it is to work in collaboration with other departments in the company.
#1 Customer service is essential for customer loyalty and satisfaction

In the international OTRS survey, participants were asked to rate the importance of customer service to customer loyalty on a scale of 1 (no role) to 5 (important role). An overwhelming 95% of respondents gave customer service 5 (65%) or 4 points (30.2%), giving it the highest importance. When it comes to the importance of customer service to customer engagement, the survey values ​​are only slightly lower at just under 90%: it receives 5 points from 50.8% of respondents and 4 points from 39% of participants.
#2 Freedom of action strengthens customer support

To be able to effectively support customers, you need a customer service team that can not only offer solutions, but ideally implement them directly. Three-quarters of companies thus give their customer service teams the possibility of intervening with discounts, extension of deadlines, account credits, etc. of them can make specific changes to the customer account. Customer service is thus reinforced by autonomy and freedom of decision.
#3 Cross-departmental cooperation leads to higher customer satisfaction

Even though customer service is of great importance for the quality of the customer relationship, it also needs – especially for the success of cross-selling and up-selling – good cooperation with other departments of the company: 92 % of respondents expect the service team to draw the customer's attention to additional products or services when contacting them. Thus, among the survey participants, customer service is perceived as having a high level of shared responsibility and with the other departments of the company, in particular for customer satisfaction at 42.2% and customer loyalty at 28, 8%; this figure is significantly lower for customer churn at 13.2%.
#4 Success factors: management support and automated processes

But what helps companies improve collaboration and communication between customer service and other departments? Clear managerial support for transversal work on the customer experience (20.4%), the automation of internal processes (24.2%) and above all the creation of a direct communication channel from customer service to product experts and business services (27.6%). ) are cited for this purpose.
"The first OTRS Customer Service Spotlight shows, on the one hand, the central role of customer service for customer satisfaction and for cross-selling and up-selling opportunities," said Andreas Bender, VP Consulting at OTRS AG, summarizing the results of the international survey. . "But it also shows how good collaboration with other departments strengthens customer service teams. Automating such cross-functional processes with solutions like OTRS provides technical support to all teams involved as they collaborate to good customer retention as well as cross-functional and bottom-up collaboration – selling projects. Clear support from management and management remains essential for this."
Survey Attribution:

OTRS group. (2022). From Learning to Loyalty: 7 Actions Customer Service Managers Are Taking Today to Drive Revenue [survey compilation]. OTRS Group. https://otrs.com/7-actions-customer-service-leaders-are-taking-today-to-drive-revenue/
About OTRS Group

OTRS Group is the manufacturer and world's largest provider of the OTRS enterprise service management suite, awarded the SERVIEW CERTIFIED TOOL seal of approval.
It offers companies industry-independent solutions for structured communication in customer service, IT service management and security management. In addition to the core OTRS product, the STORM and CONTROL security solutions ensure effective cybersecurity incident management and transparent documentation in accordance with standards such as ISO 27001.
Its customers include Lufthansa, Airbus, Porsche, BSI (Federal Office for Information Security), Max Planck Institute, Toyota and TUI Cruises. The company consists of OTRS AG and its five subsidiaries OTRS Inc. (USA), OTRS SA de CV (Mexico), OTRS Asia Pte. ltd. (Singapore), OTRS do Brasil Soluções Ltda. (Brazil) and OTRS Magyarország Kft. (Hungary). OTRS AG is listed on the Basic Table of the Frankfurt Stock Exchange. For more information, see http://www.otrs.com.
Share the article on social networks or by e-mail: